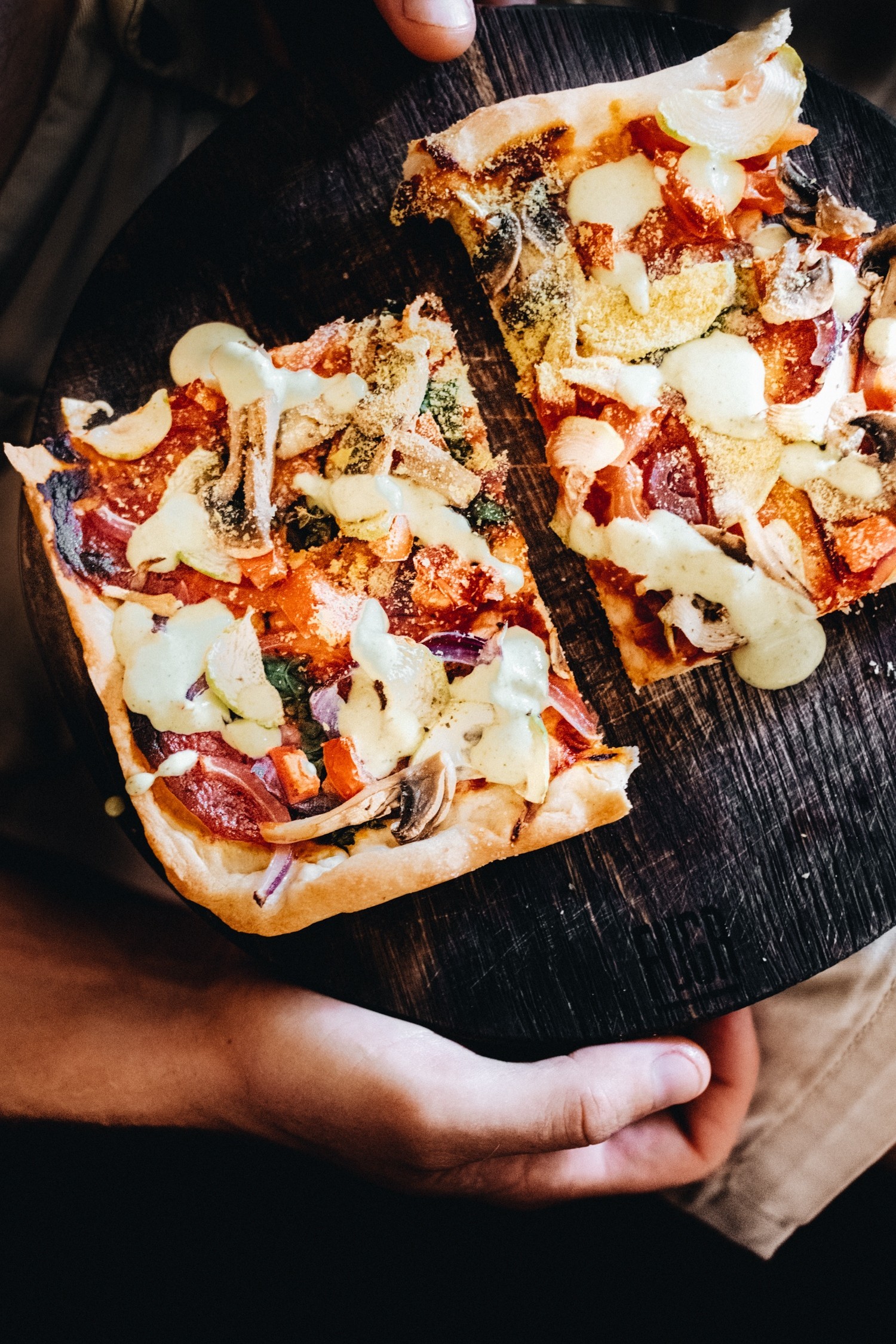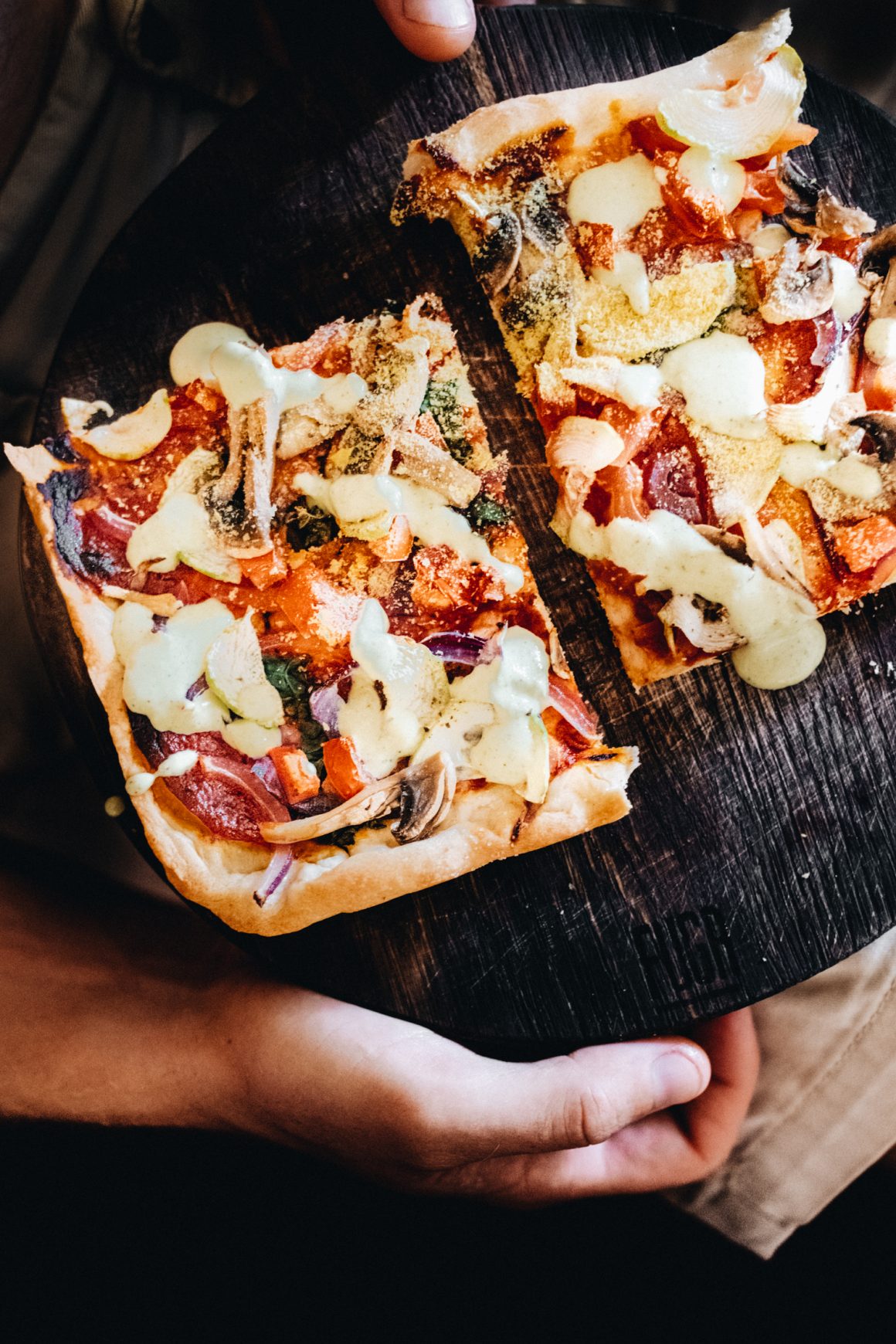 There is nothing better than thin, crispy pizza loaded with juicy veggies. It's literally mind blowing! So freaking good.
It is that kind of dish that gives incredible pleasure, and at the same time does not leave a feeling of heaviness. And you finish it all in one sitting, without leaving a single morsel.
Oh, boy! We probably were Italians in a past life. We love Italian cuisine so much. But let us tell you, Italian food doesn't mean unhealthy or guilty. You can definitely modify all the classic dishes and make them healthier. And we can help you out!
This pizza recipe is mind blowing! As you know, we prefer to keep everything as healthy as possible. So, instead of cheese, we use our creamy magic sauce, and we're telling you, it is insane! We make a classic thin and crispy crust, so it is not a gluten free pizza. Go ahead and make it GF if you wish! Also, you can use a sourdough starter instead of dry yeast. Check out our other pizza recipe for a step-by-step sourdough pizza crust guide.
For topping, we usually use what we have in our fridge. This time, we made 2 giant pizzas with pretty much the same toppings; the only difference was kale/brussels sprouts.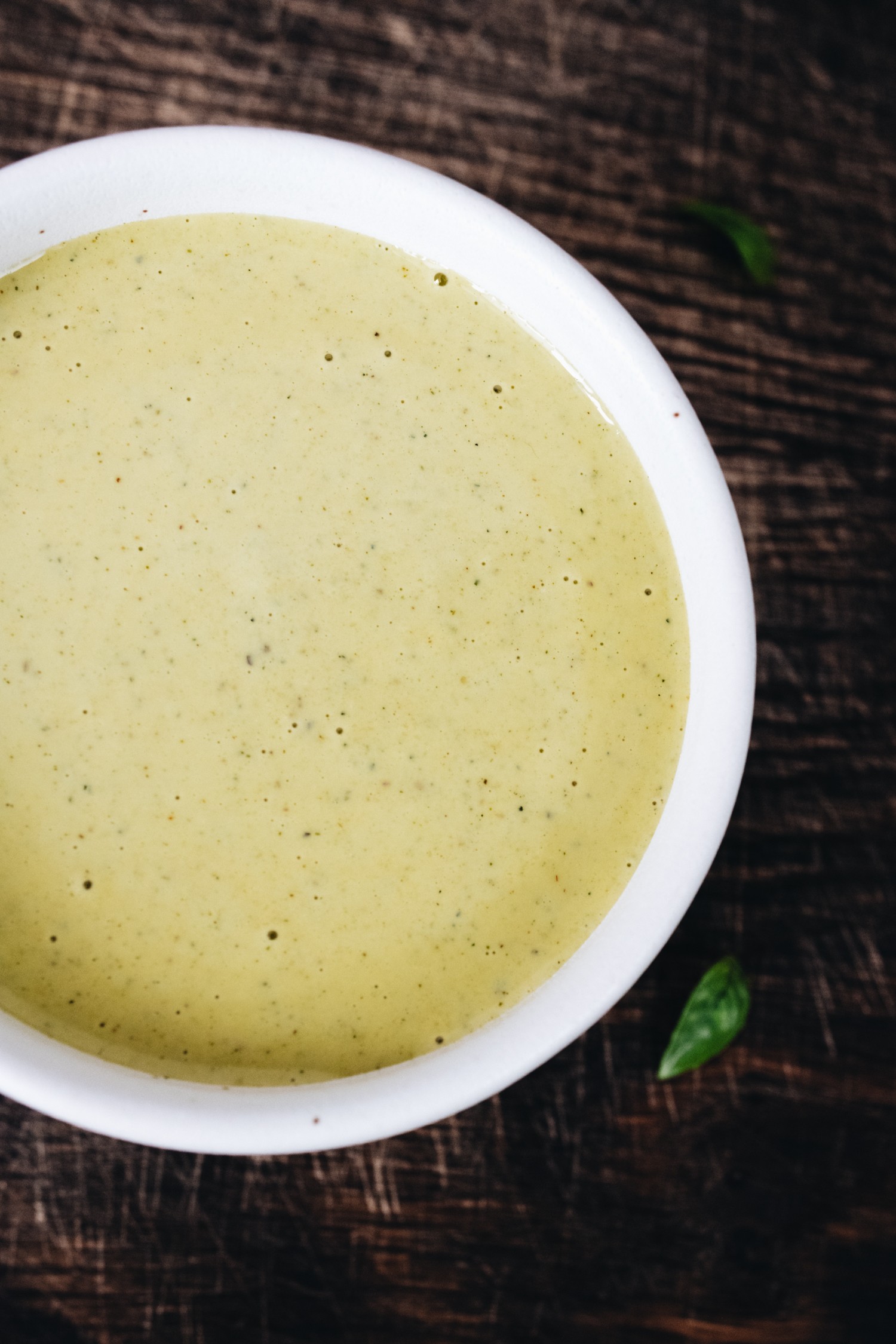 Ingredients
2 fresh tomatoes, chopped
1 red onion, sliced
4-5 tbsp of tomato paste
olive oil
zucchini, sliced
1 cup of champignons, chopped
some kale leaves
brussel sprouts (5 heads)
Italian seasoning (very important)
salt & pepper
For Italian Pizza Dough:
3 cups of flour
1 cup of warm water
2 tsp of instant dry yeast
a pinch of salt
1 tsp of coconut sugar or maple syrup
1 tbsp of olive oil
Step 1
To make the dough, combine all ingredients in a food processor. It should pull away from the walls of the processor bowl very easily. If your dough is very sticky, add more flour, bit by bit.
Step 2
Place your dough in a greased bowl, cover with a towel, and leave for about 30 min. Then knead the dough by hand (quickly) and leave for 15 min. So, in total it takes 45 min for the dough to be prepared and it should double in size.
Step 3
Preheat the oven to 200°C/400°F.
Add some olive oil onto your baking sheets (this amount of dough is for 2 pizzas), then add a pinch of flour.
Step 4
Split the dough into 2 parts. Using clean hands, you need to stretch the first part of dough in the air, then transfer it onto the baking sheet and flatten with your hands. Make the edges slightly higher. Repeat with the second half (or make it later, when your first pizza is done).
Step 5
To make the crust crispy, but not watery, grease it with a little bit of olive oil (spray or use a silicone brush), then add a layer of tomato paste, Italian seasoning, onion, tomatoes, zucchini, mushrooms and kale ( you will use Brussel sprouts for your second pizza).
Step 6
Add some salt and pepper + more Italian seasoning. Fresh herbs, like oregano and basil work great as well.
Step 7
Bake for 10 minutes. Take it out of the oven, serve with magic yellow salsa (check out our 'Basics' on the app for the recipe) and add some vegan parmesan (in 'Basics' as well). Let us tell you, you won't stop at only one pizza!
Want to cook more epic healthy recipes? Cooking for yourself and for guests is fun and easy with Greeny App!