For all the pasta people out there who are excited to cook an epic healthy version of this favorite meal. You can't go wrong with it.
This recipe is super simple to make, it is delicious and satisfying. As a base, we use sweet potato noodle, which is a gluten and lectin free option that tastes just amazing. It's hard to find (we bought it in Russia), but you can use any pasta, just see what speaks to you! Also, if you want this pasta meal to be totally lectin free, just stick to almond milk instead of oat cream.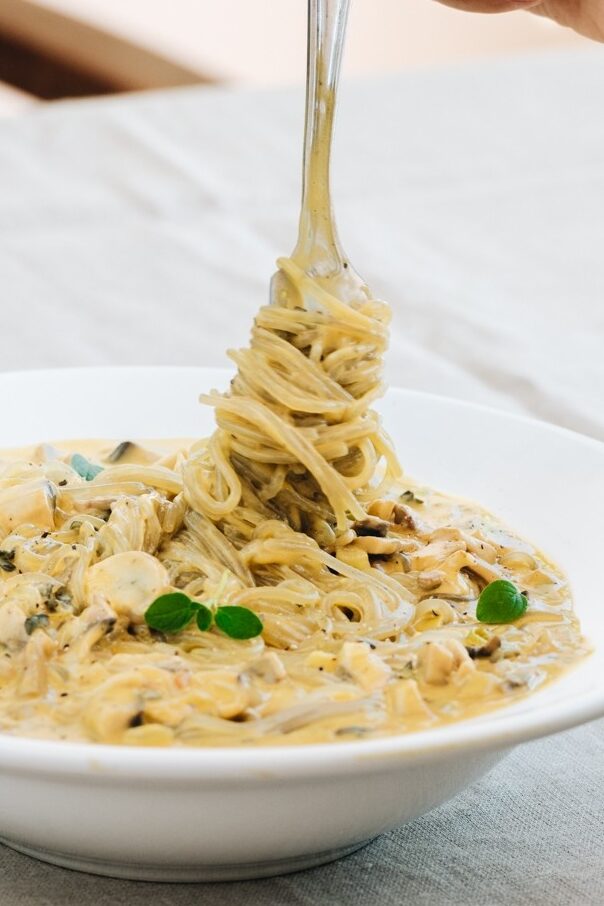 Ingredients
1 pack of sweet potato noodle
2 gloves of garlic
1 onion
2 carrots
300-500 g of champignon mushrooms
fresh or dry basil
fresh or dry oregano
100-200 ml of oat cream
nutritional yeast
lemon juice
salt & pepper
Step 1
For the cheese sauce, boil the carrots, onion and 1 garlic clove in a large pot of water.
While that's boiling, cook your noodles according to the packaging.
Step 2
Then, chop the mushrooms (and other veggies if you wish!) and the remaining head of garlic. Transfer them into the pan and let it cook for 5-10 minutes. Feel free to add some herbs like basil and oregano.
Step 3
Once the carrots, onion and garlic are done boiling, drain the water and blend together with some oat cream or your milk of choice, lemon juice, nutritional yeast, salt & pepper in a high speed blender until smooth and creamy.
Step 4
Then, mix together the mushrooms, cream sauce and your noodle. Voila! Such an easy recipe!
Want to cook more epic healthy recipes?
Cooking for yourself and for guests is fun and easy with Greeny App!